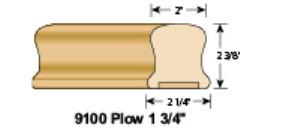 9100-SR-PL2 - Solid Wood Hand Rail - Plowed 1-3/4"
---
Use this handrail with 1-3/4" block top balusters.  No up-charge over non-plowed handrail, however, you will need to separately buy LJ-6007 fillet.  
This is high quality "clear" handrail - no finger joints or butt joints.  Often referred to as "solid" handrail in the stair industry.  This is a 3 piece laminate.   For interior use only.
2-1/4" wide x 2-3/8" tall with 1/4" deep x 1-3/4" wide plow
We typical stock all lengths in Poplar, Red Oak, Hard Maple and White Oak.
Cherry and other custom species typically take 14 to 17 business days to manufacture.
---------------
Bending Rail and Fittings are also available.
Standard lengths are 6', 8', 10', 12', 14' & 16'.
14' and 16' lengths include a 25% long length premium.
16' handrails will be a minimum 15'6".  All other lengths will be rounded up at 10" - e.g. 13'10" = 14'.  8' rails sent UPSG will be cut to 94" to prevent excessive UPS charges.
---
Share this Product
---
More from this collection