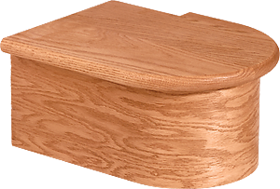 LJ-8010-2 — False End Starting Step with 6-1/2" Radius
---
Tread is 1" thick by 11½" deep. Total rise is 8".  The top tread is "finished" on both sides so this works for both a left and a right.
Radius on end of tread is 6-1/2".  Diameter is 13".
Used when a volute or turnout is utilized at the bottom of the stairway and carpeting will be placed on the center of the treads and risers.
For PDF drawing, please see:  
---
Share this Product
---
More from this collection